Keep Calm and Watch Fireworks
The Fourth of July is coming up fast, which means... fireworks, fireworks, and more FIREWORKS! We love fireworks on the Fourth of July (are you even American if you don't?!), but you know who may not be so crazy about them? You're furry pal. 
Here are some tips to keep you and your pup happy during the Fourth of July fireworks! 
1. Tons of Exercise!
Take your dog for a run, a long walk, or an epic game of fetch. Go hang by the lake and get some laps in with him. Getting your pup nice and tired will help him stay calm later on. A tired dog is a good dog! 
2. Keep your dog Inside
If your dog is freaked out by fireworks, being outside with them isn't going to help! The colors, duke, the colors! So stay inside, and turn on the lights. Your house is a safety zone for your dog, and keeping things bright will calm her down and make her feel more comfortable.  Try drawing the curtains closed too - that will help muffle the sounds from outside.  Give her lots of pets and let her know it's all good.
3. Provide a Safe Place
Is your dog crate trained? Then they will probably be perfectly happy to go cuddle up in their crate. Dogs prefer small spaces when they are freaked out! Covering up the crate with a soft blanket helps create a little 'cave'. If your dog isn't crate trained, fear not - pick a room in your home and make it comfortable, with access to a smaller safe zone. 
Either way, throw a fun treat in there with him -  a Kong filled with peanut butter will help take your dogs mind off things. You might as well have a treat too - you've earned it. (Time for an ice cream...)
4. Aromatherapy 
Just like people, calming scents can help your dog calm down.  Light up some calming candles, like lavender, citrus, or chamomile. Plus, if you took your pup swimming, your house won't smell like wet dog! Bonus. 
5. Make sure your dog is wearing a Collar!
It is so important to make sure your dog is wearing a collar and ID tags. All that noise can make a dog anxious and high strung, so when you head out the door he might rush out too! Ensuring that he is wearing his dapper collar (and IDs) will help you find him in case he makes a run for it.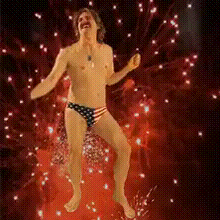 If you follow these tips, you can transform your dogs fear of fireworks into a relaxing evening curled up with a bone.  If you head out to watch the fireworks, just be sure to wear your Little Collar and ID wherever you go, so that your dog knows you won't get lost.
Please reload